SCRATCHING THE SURFACE- DIVING IN DEEP, Part 3, 2009
"A Proposal for Articulating Works and Places", Special Project, 3rd AiM International Biennale Festival 2009
Jooyoung Lee produces the third and final part of "Scratching the surface—diving in deep," a site-specific sound project for R22, the radio station of L'appartement 22, using sounds, music, and interviews. Part one was conducted in Bergen, Norway in June 2008 and was an investigation of the relatively short distance between the under- and overground local music scenes.
SCRATCHING THE SURFACE-DIVING IN DEEP, Part2, 2008
Link to Radioapartment22
On September 3rd, 2008 artist Jooyoung Lee invited DJ Eugene Blake and migrant worker Minod Moktan to meet at Yogiga, a gallery space in Hongdae, Seoul, South Korea. This was the initial meeting to set up a collaboration resulting in Lee's contribution to the Independent Drawing Gig 4 at Jinyoung Plastic Factory in Incheon. Throughout several sessions during the autumn, DJ Eugene Blake taught Moktan techniques for being a DJ. Scratching the surface – diving in deep, part 2 is a direct response to the specific location of the factory : Incheon, a seaport city west of Seoul.
Jinyoung Plastic Factory, Incheon, 2008
Text on Scratching the surface diving in deep part 2 download PDF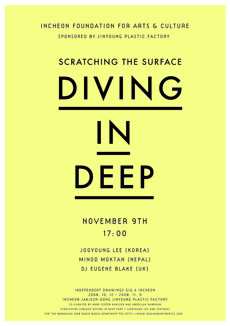 Graphic design in collaboration with Frazer Smiths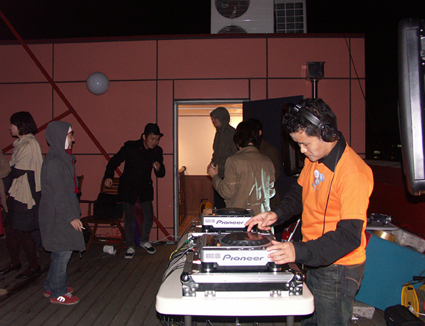 Jinyoung Plastic Factory, Incheon