STENCIL WORKSHOP PROJECT: LOST IN LANGUAGE
(Audience Participatory Project) 2005-2006
In the stencil workshop project 2005-2006, I invited participants to produce in a semi-autonomous zone, where they are free to write what they like but in the context that I have set up. The intent was to familiarize the ordinary person with a sense of the anarchic, using texts and expressions sampled from the sites. Subtext Series 2004-2006 are based on this text work. The reference to blog communities constitutes new narratives and visual worlds in Korea.
This working process is a subversive response to cyber-space of which web blog activity is also subversive. This activity involves capturing and editing text from cyber-space. The resulting interruptions are then reinserted into the public spaces by audience participants who have been encouraged to paste up texts in the street and documents the results.
The traditional practice of hand-cut stencils is employed in the process, using language taken from digital environment. This hands-on action allows participants to have physical relationship with the digital world. By cutting with a knife into paper the participants are physically interrupting the digital surface where the texts were originally deposited. This cutting is a violent action, the participants' interaction is corporeal. The stencil workshop activities are tactile and participatory, allowing for discussion on the meeting points and differences between language, culture and cyberspace. Text samples may become symbolically representative of linguistic gaps. This participatory process creates an open and tangible relationship with viewers and participants, the public and the museum.
Gallery Facotory Seoul 2006
STENCIL WORKSHOP
POWER STATION, ARKO Art Center, Seoul 2005
Link To: Stencils
Subtext Series#10, Aluminum Cut, 105x137cm, Gallery Factory, 2006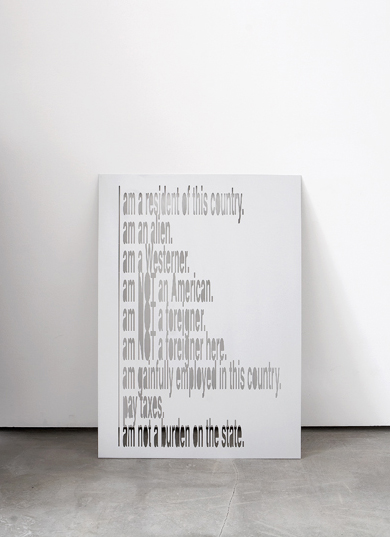 Subtext Series #25, Aluminum Cut, 60cmx84cm
Subtext#1, Aluminum Cut, 21x60cm
Subtext #5, Aluminum Cut, 43.2x51.5cm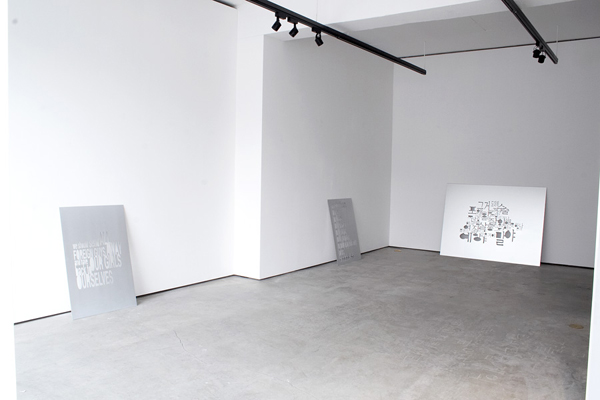 Installation View:Subtext Series, Gallery Factory, Seoul 2006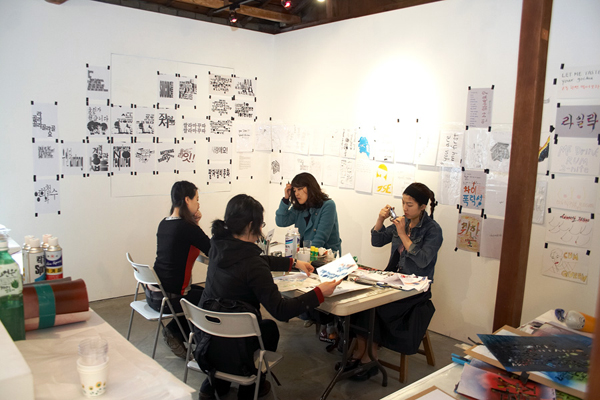 Workshop View: Gallery Factory, Seoul 2006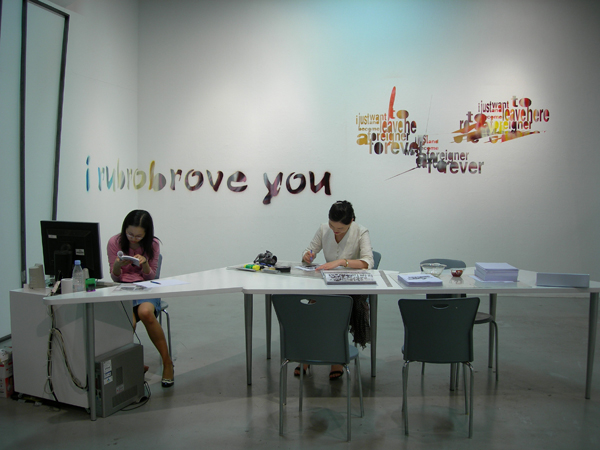 Installation View: Stencil Workshop Arko Art Center, Seoul 2005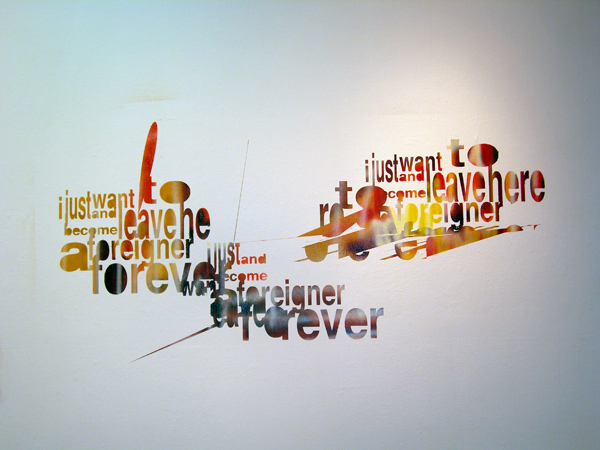 Subtext Series#8, Spray paint, POWER STATION, Arko Art Center
Subtext#13, Spray paint on Plexiglass, diemensions variable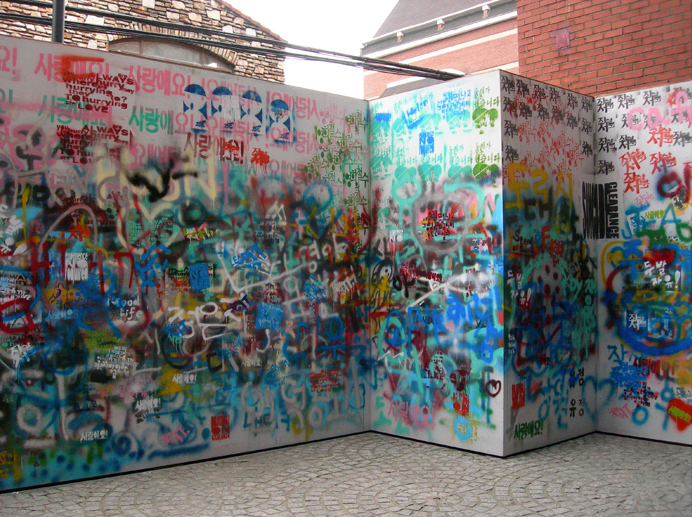 Sebtextseries 2005-2006 spray paint on wall, ourdoor ARKO